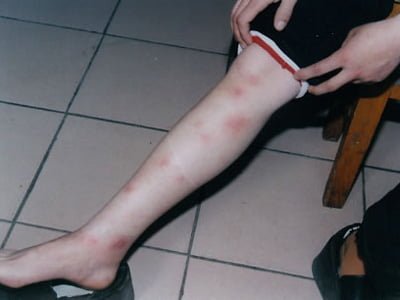 Erythema nodosum is an inflammation of the subcutaneous fat. It is not a disease but a reaction pattern to various immunological reactions caused by different viral, bacterial, fungal infections, drugs, malignant disorders and other causes.
Erythema nodosum is commonly seen in women of age 20 to 40 but may occur at any age. Erythema nodosum starts with a sudden onset of symmetric, tender and erythematous nodules or raised plaque on the legs or forearm, most often seen on shin of the legs. After few days the nodules turn purple or red color than to green or yellowish color. One may have fever, headache, joint pain, abdominal pain, vomiting and diarrhea. The nodules may be so tender that walking may be difficult. Lesions usually resolve without scarring within 5-6 weeks. There is no ulceration seen and the lesion heals without scarring or atrophy. These lesions usually last 3-6 weeks and resolves, however, EN may recur frequently if the causative agent is not removed or treated.
Although erythema nodosum results from wide variety of etiologic agents, streptococcal infections are considered as most frequent causative factor in children. In contrast, adult erythema nodosum is most commonly associated with drugs, sarcoidosis, and inflammatory bowel disease to a large number of inciting factors. Below are several etiological factors for Erythema Nodosum
Infections
Bacterial Infections
Streptococcal infections
Tuberculosis
Yersinia infections
Salmonella infections
Syphilis
Campylobacter infections
Brucellosis
Q fever
Tularemia
Atypical mycobacterial infections
Chancroid
Meningococcemia
Corynebacterium diphtheriae infections
Cat-scratch disease
Propionibacterium acnes
Shigella infections
Gonorrhea
Leptospirosis
Lymphogranuloma venereum
Chlamydia
psittaci infections
Mycoplasma pneumoniae infections
Viral Infections
Herpes simplex
Infectious mononucleosis
Hepatitis B
Milker's nodules
Orf
Measles
Cytomegalovirus infections
Fungal Infections
Histoplasmosis
Dermatophytes
Blastomycosis
Coccidioidomycosis
Sporotrichosis
Aspergillosis
Protozoal Infections
Giardiasis
Ancylostomiasis
Toxoplasmosis
Amebiasis
Ascariasis
Erythema Nodosum Pictures
Drugs
Oral contraceptives
Sulfonamides
Bromides
Iodides
Minocycline
Aminopyrine
Gold salts
Penicillin
Salicylates
Isotretinoin
Chlorothiazides
Phenytoin
Arsphenamine
Hepatitis B vaccine
Nitrofurantoin
Pyritinol
D-penicillamine
Thalidomide
Interleukin
Malignant Diseases
Leukemia
Renal carcinoma
Hodgkin disease
Non-Hodgkin
Lymphoma
Sarcoma
Post-radiotherapy for pelvic carcinoma
Miscellaneous Conditions
Ulcerative colitis
Pregnancy
Chronic active hepatitis
Sweet syndrome
Sarcoidosis
Colon diverticulosis
Crohn disease
Behçet disease
Reiter syndrome
Takayasu arteritis
Immunoglobulin A nephropathy
Granulomatous mastitis
Vogt-Koyanagi disease
Sjögren syndrome
Treatment of Erythema Nodosum
As several agents may cause erythema nodosum, eliminating these causative factors is the main aim of the treatment. Besides treating causative factors, bed rest is also very important part of treatment. Pain killers like aspirin, indomethacin or ibuprofen are helpful for those experiencing pain. In severe cases systemic corticosteroids may be given by your doctor or are not generally required for mild cases.
References
Fitzpatrick's Dermatology in General Medicine, 7th Edition